Poke bowl, breaded escalope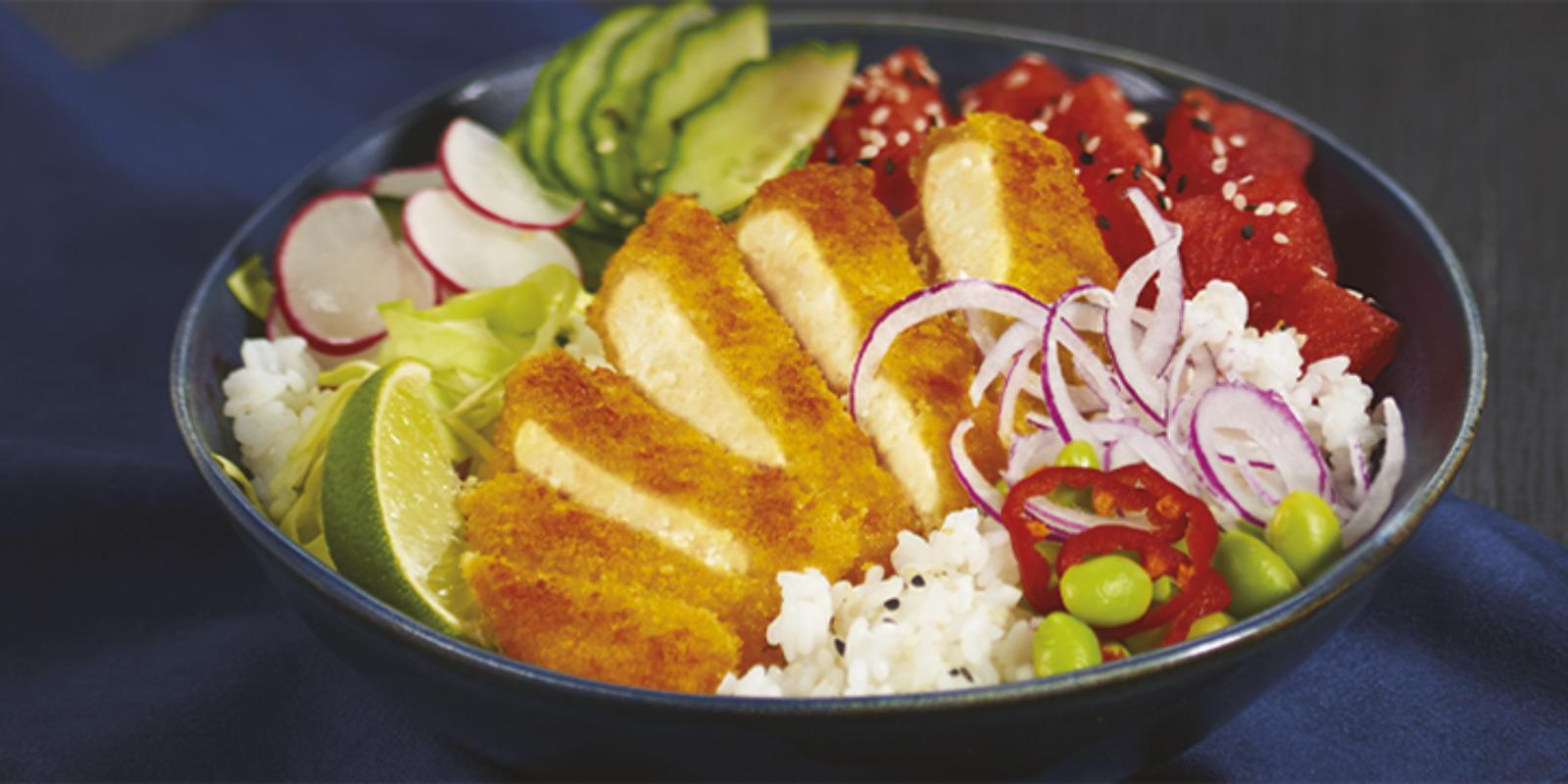 Colourful, gourmet, fresh, delicious… Discover the recipe for the poké bowl made with the ACCRO vegetable breaded escalope.
Simple to make, you will need rice and vegetables and that's it! All drizzled with homemade poké sauce, for an even more gourmet meal. Enjoy!
Suitable for flexitarians / vegetarians.
Ingredients for 2
1 Tbsp oil

20g butter

100g sushi rice

½ red onion

25ml water

2.5 cl of rice vinegar

1 Tbsp of sugar

¼ small beef heart cabbage

70g broad beans (shelled)

10 radishes

1/2 cucumber

50g watermelon

pickled ginger
For the poke sauce
15g soy sauce

8g lime juice

5g rice vinegar

10g sesame oil

¼ minced red pepper

8g cane sugar
Food Preparation Time
20 minutes
Step by step recipe
Step 1
Prepare the sauce: in a bowl, combine the soy sauce, lime juice, rice vinegar, sesame oil, chilli and cane sugar.
Step 2
Bring the water, vinegar and sugar to a boil. Add the onion cut into rings, turn off the heat and let the onion rings marinate for 15 minutes.
Step 3
Cook the rice, let it cool a little and divide it among the bowls.
Step 4
Cook the beans for 1 minute, cool them and remove the skin.
Step 5
Finely chop the beef cabbage and mix it with some of the sauce. Cut the cucumber lengthwise, then slice it. Cut the radishes into rings and the watermelon into cubes.
Step 6
Cook the ACCRO escalopes for 4½ minutes in a very hot non-stick pan, then cut them into strips.
Step 7
On the rice, arrange the cabbage, beans, radishes, cucumber, watermelon and ACCRO breaded escalope. Finish with the onion rings and ginger in vinegar.
Step 8
Drizzle with sauce. Serve !