Trofie with chunks and roasted vegetables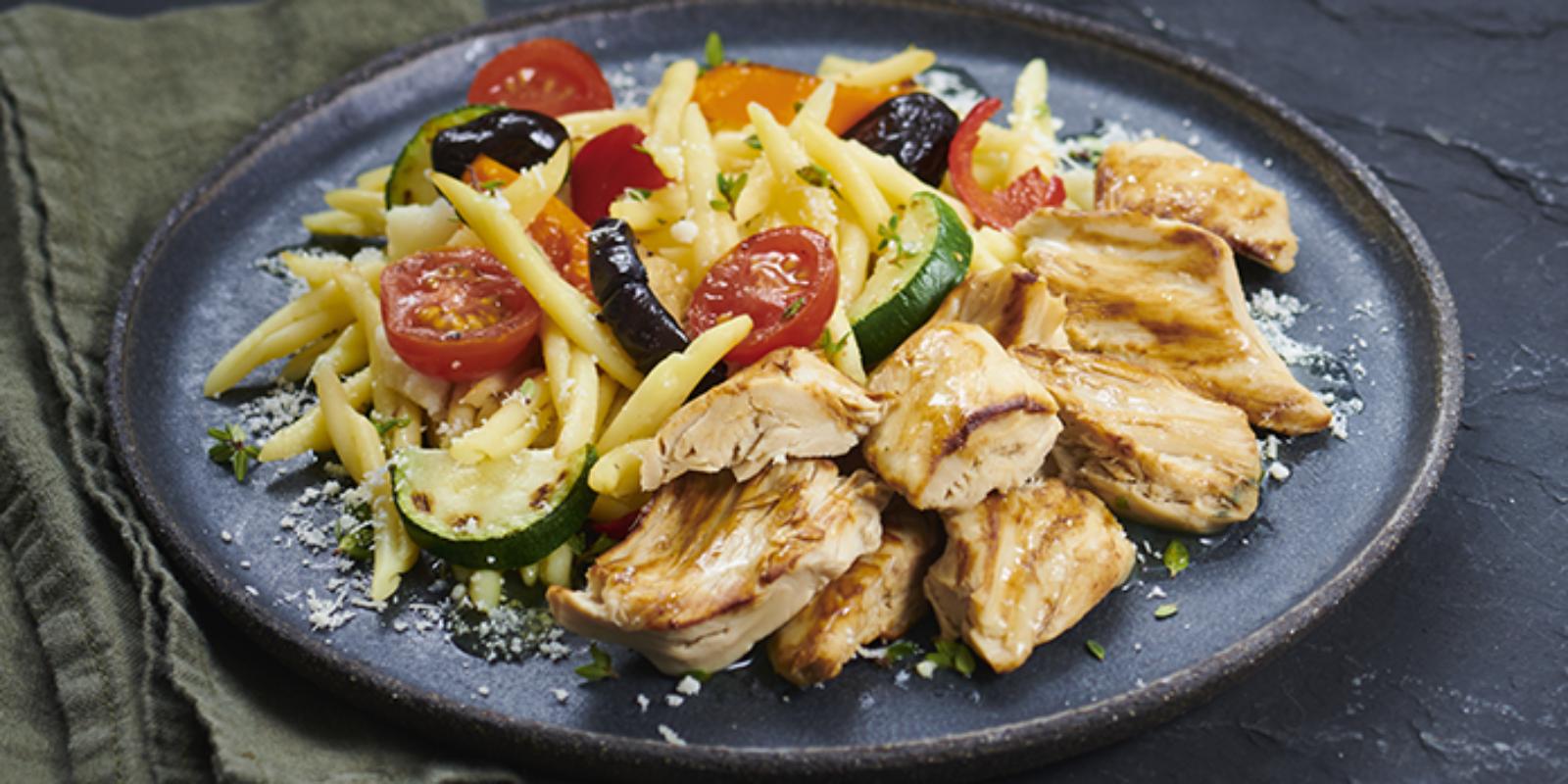 Trofies, grilled vegetables, and delicious plant-based ACCRO chunks… That's all you need to make this gourmet recipe.
Simple and easy to make, you are going to enjoy it!
Suitable for flexitarians/vegetarians. 
Ingredients for 2
120g Trofie pasta

1 zucchini

½ red bell pepper

½ eggplant

1 clove of garlic

1 tsp Provencal herbs

8 cherry tomatoes

6 pitted black olives

40g parmesan

1 sprig of basil

vegetables soup

olive oil

salt, pepper
Food Preparation Time
30 minutes
Step by step recipe
Step 1
Cook the Trofie pasta al dente in plenty of salted water (according to the cooking time indicated on the package).
Step 2
In a frying pan, heat a little olive oil with a clove of crushed garlic, then brown the zucchini for 3 to 4 minutes. Add salt and pepper. Put it on the side.
Step 3
In the same skillet, brown the red pepper and eggplant. The vegetables should remain crunchy. Put it on the side.
Step 4
Still in the same pan, heat a little olive oil over high heat, add the ACCRO chunks then sear them, stirring regularly for 3½ minutes.
Step 5
Add the Provence herbs, the cherry tomatoes cut in half, and the pitted olives, continue cooking.
Step 6
Add a little vegetable broth to the pan, then the vegetables and finish with the Trofie pasta. Mix everything. Add a little vegetable broth if necessary.
Step 7
Serve with a little parmesan, basil and a drizzle of olive oil.